On May 8, 2018, the Office of the Leading Group of the Xiaogan City Xiao Culture Tourism Festival authorized Guangdong Ksourcing Exhition Co., Ltd. to undertake the implementation of the 2018 China Xiaogan International Geriatric Health Industry and Rehabilitation Aids Expo (hereinafter: EldExpo(XiaoGan)) ). This is the second time that Guangdong Cross-Campus has been authorized to undertake the implementation of EldExpo(XiaoGan) after the 2017 EldExpo(XiaoGan).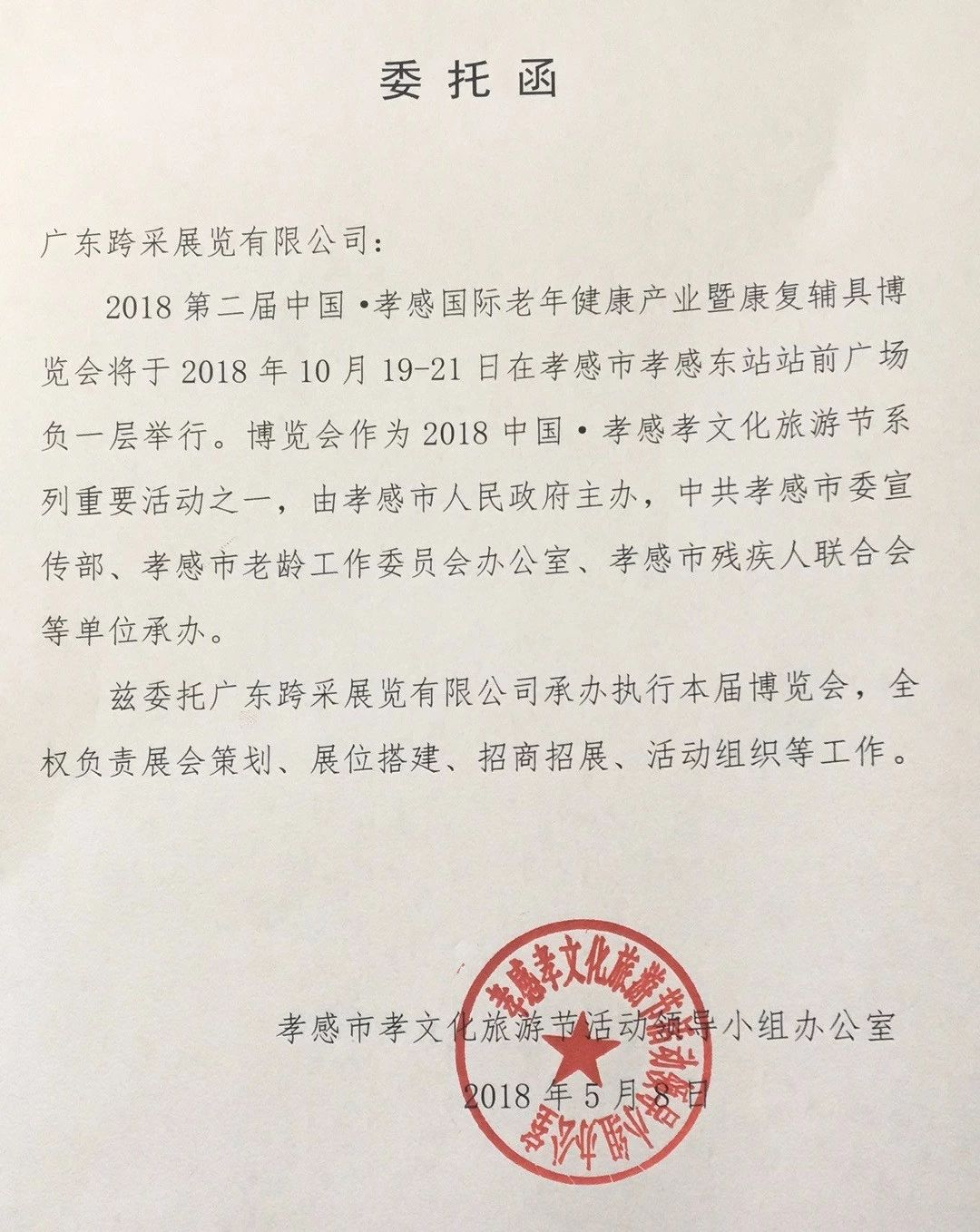 The 2018 EldExpo(XiaoGan) is hosted by the Xiaogan Municipal People's Government. The Propaganda Department of the CPC Xiaogan Municipal Committee, the Office of the Xiaogan City Working Committee for the Elderly, the Xiaogan City Disabled Persons' Federation, and the Xiaogan City Urban Construction Investment Company will jointly undertake the project, which will be held on October 19, 2018. On the 21st, it was held on the first floor of the front square of Xiaogan East Station in Xiaogan City. It is one of the important activities of the 2018 China Xiaoganxiao Cultural Tourism Festival.
Founded in 2010, the company has a professional international trade and exhibition event planning and execution team, specializing in international large-scale government exhibitions and forums, and participates in the Canton Fair, the High-Tech Fair, the ASEAN Expo, the Shenzhen Cultural Fair, the Home Expo, etc. 50 government exhibitions and international professional exhibitions international pavilions/national pavilions and foreign buyers organize work, and assist local governments and professional exhibitions to promote overseas investment promotion, involving science and technology, culture, tourism, agriculture, ceramics, home, import Commodities and other fields.
The company follows the development of the national pension industry and establishes the Eldexpo China International Health Industry Expo. It is committed to creating an industry trend indicator for the elderly health industry, bringing together the world's most advanced health care service products and solutions to lead the development of the elderly health industry. Create a one-stop international trade platform integrating display, communication, service and business opportunity procurement. In 2017, it was successfully held in Guangzhou, Xiaogan and Luoyang, and received strong support from the local government, and achieved good exhibition effects and influence! !