Recently, the Office of the Leading Group of 2017 China Xiaogan Filial Culture Tourism Festival authorized Guangdong Cross Mining Co., Ltd. to undertake the implementation of "Healthy Chinese Happiness and Xiaogan" 2017 China (Xiaogan) International Geriatric Health Industry and Rehabilitation Aids Expo (hereinafter referred to as Xiaogan Expo).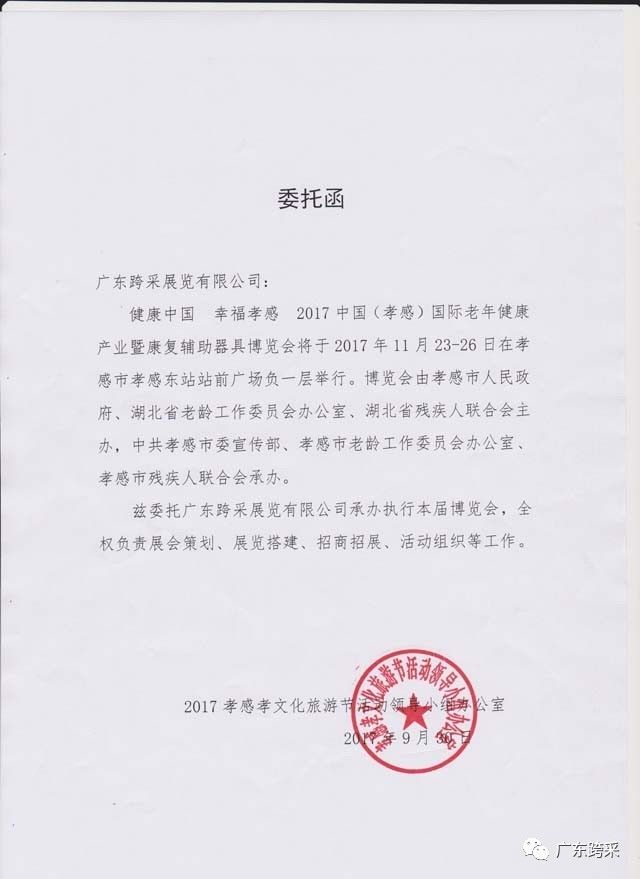 The Xiaogan Expo is hosted by the Xiaogan Municipal People's Government, the Hubei Provincial Working Committee of the Aging Working Committee, and the Hubei Disabled Persons' Federation. The Propaganda Department of the CPC Xiaogan Municipal Committee, the Office of the Elderly Working Committee of Xiaogan City, the Xiaogan City Disabled Persons' Federation, and the City Construction Investment of Xiaogan City The company will be held on November 23-26, 2017 at the first floor of the front square of Xiaogan East Station in Xiaogan City. It is an important part of the 2017 China Xiaoganxiao Cultural Tourism Festival.
Established in 2010, Guangdong Cross-Exhibition Co., Ltd. has a professional international exhibition and event planning and execution team, specializing in government and international exhibitions, in government agencies, international chambers of commerce, overseas buyers, local industrial clusters, domestic Foreign exhibitors set up an efficient exhibition and trade platform, and responded to the national pension service industry policy, independently hosted the International Geriatric Health Industry Expo, and organized the world's most advanced pension service product technologies and solutions.
The Xiaogan Old Fair is an old-age fair held by Guangdong Cross-Collection in the experience of successfully hosting the Guangzhou Old Expo and combined with the industrial development plan of the Xiaogan Municipal People's Government. It will be held concurrently with the 2017 China Xiaoganxiao Cultural Tourism Festival. The exhibition area is about 20,000 square meters. M. With 10 theme exhibition areas, over 400 exhibitors will bring more than 2,000 new products and technologies to show the latest development trend of domestic and foreign pension industry. It is expected that 50,000 professional visitors and buyers will be present, covering more than 80 provinces in Hubei and surrounding provinces. % of pension institutions, welfare homes, dealers, agents, communities, and middle-aged and older people.