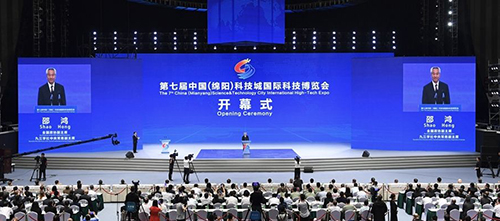 A "storm", a "storm" of "scientific and technological innovation, deepening reform, open cooperation", landed strongly in Mianyang from September 5th to 8th -

38 countries and regions and 687 international and domestic high-tech enterprises and institutions participated in the exhibition, carrying 3,535 exhibiting projects, and more than 10,000 scientific and technological exhibits debuted;
150 foreign political and political businessmen came to the event, 43 provincial departments and 20 brothers and cities, and 109 political elites, business leaders and academic leaders came from the wind.
The China (Mianyang) Science and Technology City Innovation and Development Forum, the Austrian Science and Technology Day of the Guest State, the Fifth National Youth Forum of the Jiu San Society, and the China 5G Application Industry Summit Forum and other two categories of 25 activities shine brilliantly.
This is the strongest "storm" in the 7th China (Mianyang) Science and Technology City International Science and Technology Expo (referred to as the 7th Science and Technology Fair).
After the "storm", people saw a lot of achievements: 105 projects signed in a series of investment promotion activities such as the 7th China Science and Technology Fair Investment Promotion and Acquisition and Matching Conference, with an investment amount of 92.375 billion yuan.
The way to benefit, and the time to walk. The Science Fair held in Mianyang is becoming the agreement and expectation of the scientific and technological circles, and has become the consensus and pursuit of all sectors of the society to create a technological era and share scientific and technological achievements.
Guangdong Ksourcing Exhition Co., Ltd. is responsible for the international investment and procurement matchmaking meeting of the Mianyang Science and Technology Fair:
Entrusted by the organizing committee, Guangdong Ksourcing Exhition Co., Ltd. organizations from Russia, Kazakhstan, Nepal, Uzbekistan, Pakistan, Tajikistan, Afghanistan, Egypt, India, Samoa, Bangladesh, Ukraine, Belarus, Romania, Kyrgyzstan, Poland, Turkey. More than 100 professional buyers from nearly 30 countries including Italy, the United States, Chile, Eldovia, Colombia, Australia, Greece and France attended the conference.