China Yiwu International Commodities Fair (referred to as "Yibo Fair") was founded in 1995. It is an international exhibition of consumer goods approved by the State Council. It is jointly sponsored by the Ministry of Commerce and the People's Government of Zhejiang Province. Every year from October 21 to 25 The day was held in Yiwu, Zhejiang Province, and has been held for 24 consecutive times. The organizer of the 25th Uprising Expo has added the National Standardization Management Committee and changed its name to China Yiwu International Commodities (Standard) Expo. Since then, it has become the first standard element in China. International exhibition.
With the aim of "facing the world and serving the whole country", Yibo Fair has distinctive features, outstanding internationalization level, strong information function, perfect service system, safety and health protection in place, and remarkable achievements. It has become the largest domestic scale. The most influential and most effective daily consumer goods exhibition is one of the three major export commodities exhibitions organized by the Ministry of Commerce. It has been rated as one of China's top ten most powerful trade import and export exhibitions and the best management level in China. China's (exhibition effect) best exhibition, the top ten most popular exhibitions, the best government-led exhibitions and China's top ten most influential brand exhibitions, etc., and obtained the International Exhibition Alliance (UFI) certification.
Exhibition industry:
Hardware, electromechanical machinery, electronic appliances, daily necessities, needle textiles, craft jewelry, cultural office, toys, sports and outdoor leisure products
Cooperation between Yibo Fair and Guangdong Ksourcing Exhition Co., Ltd.:
Since 2016, our company has been a partner of China Yiwu International Commodities Fair for many years. Each group has an exhibition area of nearly 5,000 square meters. It organizes Southeast Asian countries from Malaysia, Thailand, Indonesia, Vietnam, Cambodia, Singapore, Pakistan, India and Bangladesh. Participated in the countries along the "Belt and Road".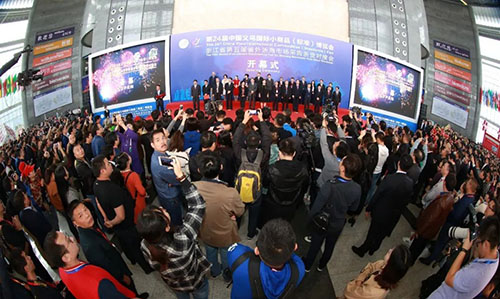 2018 Yibo Fair (click image for details)